57A Double Street
Spalding, PE11 2AB
Tel: 01775 680 683
Exhibitions & News
---

Exhibitions & News
Spring Show
Our spring show starts on Sat/Sun 24/25th April. The exhibition is then open each Sat/Sun until May 16th. The show will feature new paintings in the Edinburgh series by John Gray and new landscapes of Lincolnshire and France by Helen Webber.
R.T.G. - Ayscoughfee Hall
Students attending our Thursday art class have formed a group called R.T.G. (Riverbank Thursday Group) and they are currently holding an exhibition of their paintings at Ayscoughfee Hall Spalding, from Frid 2nd April until Thurs 22nd April.
For further information on the art classes please contact either John Gray or Helen Webber on 01775 680 683 or by email
johnhelen@ic24.net
For information on class timetables, please
click here.
Term Times
Easter Term: 2nd March to 1st April 2010
Spring Term: 20th April to 20th May 2010
Please Note: The Whit Break 24th to 28th May is different to the schools break.
Summer Term: 1st June to 1st July 2010
Autum Term: begins on the 7th of September 2010
Summer Programme
We will be running a two day painting Course called "A fresh approach to fruit and vegetables" On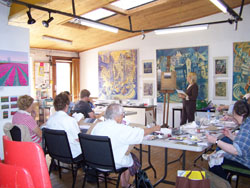 11th/12th August 10.30am - 3.30pm, to tie in with the "South Holland Food Festival" www.food-festival.net.
The course will cost £40 for two days including all materials, paints and canvases. There will also be a chance to exhibit the work, in our gallery, during the final weekend of the food festival 14/15th August.

More details of this and other summer courses soon.
Art on the Map
Once again John & Helen will be taking part in the Lincolnshire wide Open Studios free event as well as the opportunity to meet the artists and look around their studios: An exhibition of their paintings will be open in the gallery. To visit "Art on the Map" please click here.
Art on the Map times:

10:00am to 4:00pm 8th & 9th May and 15th & 16th May 2010
10:00am to 4:00pm 11th & 12th September and 18th & 19th September 2010(provisional)
Life Class Dates & Models 2010
Tuesday 16th March - Jane
Tuesday 23rd March - Laura
Tuesday 30th March - Joanna
Two week break
Tuesday 20th April - TBA